Melissa Witmer: In Her Own Words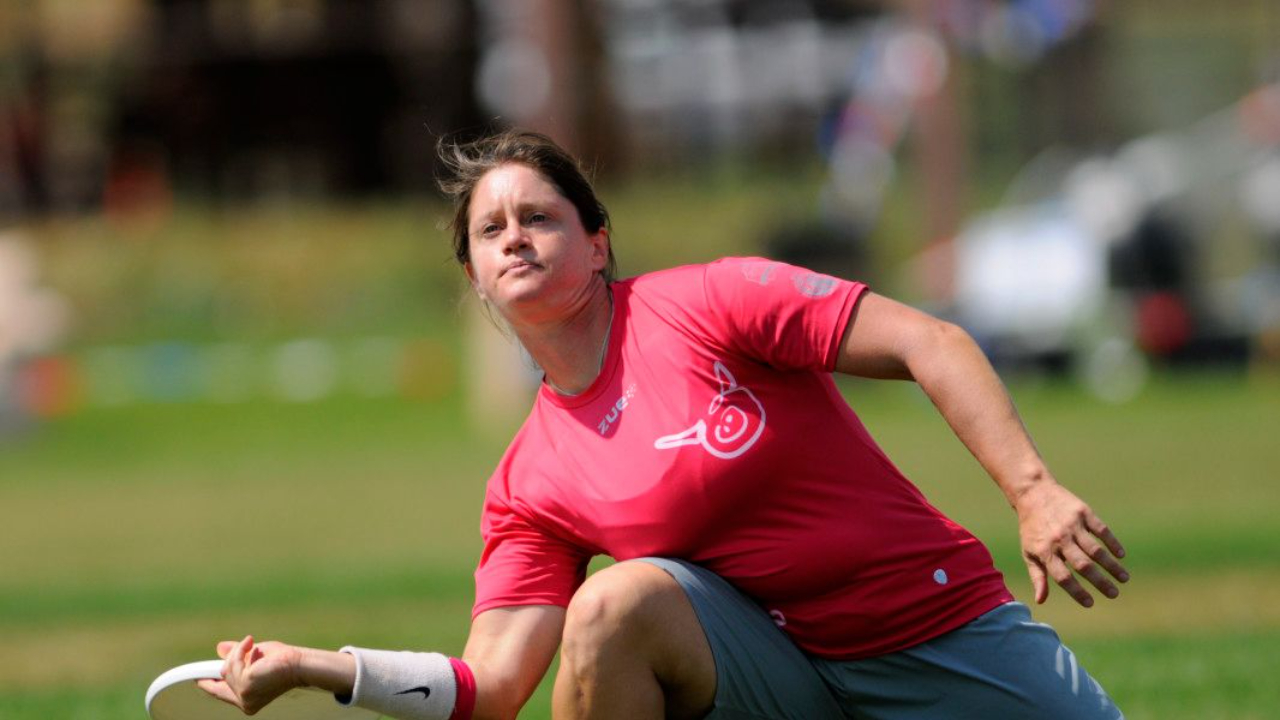 This updated article was originally published in on Skyd Managize. You can find the original article here.
---
Melissa Witmer has been a long-time fixture within the ultimate training community, as well as a consistent contributor to our Training Blog. Players know her as the head of the Ultimate Athlete Project and the organizer of the UAP's Annual Coaching Conference. Skyd sat down with Melissa to find out more about her background and the plans for the Ultimate Athlete Project (UAP) this year.
What's your background with sports and sports training? How did you get into sports and movement (youth and beyond)?
I was a mediocre field hockey player in high school. Fortunately, through training for field hockey, I learned to love the weight room. I loved what most people hate about it. I loved the smell of sweat, the testosterone, the loud music, and the clanging of metal. I liked training for hockey more than I liked hockey. The confidence to walk into a weight room in college and know what I was doing was a huge gift.
But it didn't occur to me to study strength training. It was an accident of the alphabet really. At 25 I was in a PhD program for Chemistry and was miserable. I dropped out with no backup plan. I took free classes while I stayed on as a teacher's assistant in the chem labs. I thought I might like journalism so I went to the bookstore to look at the required books for those classes and I kept picking up the kinesiology books next to them instead. I'd sit down in the isles and think about how to apply what I read to myself and my ultimate team. After doing this multiple times, I just gave up and went with it.
Now I have a Masters degree in Kinesiology and am a certified strength and conditioning specialist through the national strength and conditioning association.
How did you get into ultimate? What do you like about it? What kept you playing and involved?
I learned to play my first day on campus at Virginia Tech. I loved the athleticism of it and the people who played it. Spirit of the Game was something that was explicitly talked about at pickup and tournaments. There was no coach. Everyone took responsibility for coaching and helping each other. Spirit of the Game wasn't just about the game, it was also about how to do life.
How and why I really love ultimate happened later when I started my own team at the University of Illinois. It mostly started with one guy, Josh Thornton, I met at pickup. We ended up creating a club of over 400 people. It was special because we successfully combined inclusivity and competitiveness. There were different opportunities for players of various skill level. We were were able to create an environment where everyone could belong and be valued. We had serious workouts, a traveling team that did pretty well, and we still did pickup and organized leagues for the less committed players.
Respect for all players. The ability to take yourself seriously as an athlete but still have fun – these are the important aspects of SOTG to me. And I felt we executed them successfully in our club.
As a science oriented person, I am skeptical of things. Sometimes this makes me cynical. Ultimate is an area in which I'm more able to suspend my cynicism and get a little idealistic. It at least offers an arena in which we can be encouraged to put your idealism (SOTG) into practice and see what happens.
I often wonder about the future of ultimate and how much of our unique cultural attributes we'll sustain as we become more mainstream. Overall I believe we CAN do both. We can be mainstream and unique. We can be competitive and self officiating to some degree. The purpose of Ultimate Results as a business is to help athletes and coaches to increase the quantity and quality of ultimate being played around the globe while preserving ultimate's unique cultural identity. I believe it will require thought and creativity. But as more kids in the US are quitting sports because they've become too much about winning or parental expectation, we have something not only unique, but necessary to share with the sporting world. This is a journey I can stay excited about for a long time.
Why do you think so many people don't know how to train right for ultimate?
Well, why would they? I know how to train for ultimate because I intrinsically enjoy studying human performance research and the challenge of applying it. Many players today have never been in a strength training environment with adult supervision. I know that gave me a lot of confidence when I went off to college. I felt comfortable in the weight room regardless of who else was there. My foundation also enabled me to feel comfortable adding new things to my already ingrained movement patterns.
Many players don't have the type of foundation that helps them feel comfortable and confident in a strength training environment. And so they put off learning the one thing that would give them the most benefit per time spent with regards to sprint endurance and injury prevention.
For elite players, their obsession is with the game itself. A person can only have so many obsessions at once. So an elite player is more likely to be obsessed with throwing, game strategy, developing mental toughness. Some are obsessed with the athletic side as well. But few players can't truly excel in all of the areas needed to mold themselves into an elite player. It makes sense that most elite players don't spend the time you'd expect learning how to train.
People do not know how to train for ultimate because they have not been educated about how to train for athletic performance. What you see on DVDs, TV, and in fitness magazines is all geared toward the general fitness or aesthetics. Normal people do not ever see what training like a D1 or professional athlete really looks like. No one is going to make a DVD of a person doing heavy deadlifts with 3-4 minutes rest between sets. That would be too boring to watch, so you'll never see it.
And many players are using programs passed down from one player to another. Or if they do have experience in sports from high school or college, they are still using the same programming they were using then. But most high school coaches, even good ones, are not experts in strength and conditioning. Most programs designed for high school students are very basic. They have to be optimized for ease of use and ease of supervision rather than next level performance enhancement.
How and why did you start the Ultimate Athlete Project?

I started Ultimate Results in 2010. I did not have a business plan or any product ideas. My only parameters were that I would serve the ultimate community and that my products and services would be about performance. I was not interested in creating another clothing company, I knew that for sure.
My original idea was to help players better understand motor skills learning research so that they could apply the available research to their throwing practice.
At around the same time, I became obsessed with training because of how I could apply it to my own performance. Despite my degree in kinesiology, I did not get really learn how to train for athletic performance until my early 30s when I wanted one last chance at elite level play before retiring. I started with the question of how do professional athletes really train? And how close can I get to that ideal? Many of the methods I adopted were almost the opposite of what I had learned and done before. But I trusted the science, trusted the current practices I was reading about, and totally crushed my own expectations of what was athletically possible for me. Many of my athletes in the UAP are discovering the same type of potential in themselves. And that's really exciting to me.
So, at the beginning I was just digging into athletic performance training for myself. And not surprisingly, a lot of players had the same questions I did. You can find books and programs for how to train for other sports. Seems like ultimate deserved it's own professionally designed programming. And then it became unfortunately obvious that with my knowledge base and my playing experience, I was the right person to create it. I say "unfortunately" mostly in jest. It was a huge, ridiculously complicated project.
How does the program work?
After you sign up, you get access to the UAP website. You can start with a preparation phase or phase 1 of the off season. I have designed the program to be flexible. So the first thing you'll do is to decide how many hours per week you want to train. I have suggested schedules for 2-6 days/week of training time. Each month you get access to the next phase of training. You can do 2-6 months of off season training, 1-3 months of preseason training, 1-3 months of in season training, and a taper phase. There's flexibility in when you transition from off season to preseason etc.
Each module has video demonstrations for all exercises and includes a PDF download so you can keep track of your progress.
The UAP is currently only $15/month and you can cancel any time. Players who complete a workout and stick with us after the two week trial period usually stay with us for the entire season and many stay for several years.
How many people use the Ultimate Athlete Project? Why do you think it has become so successful?
The UAP has been successful because it works. The UAP works for a wide variety of athletes, it's cheap, and it's relatively easy to use. It took a while for the UAP to really take off. But as more players hear from their friends who are using it and see results, it becomes a no brainer to sign up for themselves.
I believe the product has been successful because of my relentless focus on applicability and performance. The Ultimate Athlete Project is based on empirical evidence when possible. It is based on current best practices in athletic performance training when the empirical evidence isn't rigorous. For this reason, my athletes trust me. But if all this cool knowledge can't be used to make me or you into a better player, who cares? I understand that mentality in my athletes because I have that mentality.
By our most recent count, there are 638 athletes in the UAP. We expect to add over 200 more this January.
Where do you see yourself fitting into the world of ultimate training?
I was the first strength and conditioning coach to commit myself to serving the ultimate community exclusively. I proved that there is a market specifically for strength and conditioning programs for ultimate players. I did this at a time when others, even friends and fans, were sure it would not be possible and I am very proud of that fact.
It's been amazing to see the changes that have happened since then. Now we've got physical locations sprouting up to serve the ultimate community and I think that is totally amazing. Players will benefit from having a multitude of options. Especially if they can have a physical location to go. Individualized help and a supportive community of other ultimate players to train with – that's the dream. I hope players go and support coaches providing these services. As awesome as the UAP programming is, nothing beats working directly with a strength and conditioning coach who can physically see you, knows the sport, and is devoted to your success.
What have been some of the difficulties you've overcome in developing your position in the ultimate world?
In the field of strength and conditioning there are very few women. I went to a strength and conditioning conference in Indianapolis where there were 1200 people and not once did I have to wait in line for the bathroom between talks.
And yet, two of the best known S&C coaches in ultimate are women. It is hard to fathom that being possible anywhere else. So I've been very grateful for the respect I've received from the ultimate community. Of course, I have my own stories of microaggressions that any women in a male dominated space will have.
What was more difficult in the beginning was getting over the fear of what anonymous internet trolls would say. As a woman, you don't take the decision to put yourself on YouTube lightly. I did it only because I absolutely had to. I assumed people would say terrible, horrible things about my appearance. I knew that one awful comment in a sea of good ones would make me want to crawl in a hole and die. I assumed it would just be a price I'd have to pay. So far that hasn't happened. And now if it did, I truly would not care. So I guess I'd just like to say for the next generation of women out there who might like to make a trick shot video or teach people to throw, go ahead and share your knowledge and teach us your skills. The internet isn't always a horrifying place and most of the time people are actually quite nice.
What do you see the future of athlete development for ultimate being? What's the future of the Ultimate Athlete Project and other projects you might be working on?
The future of athletic development for ultimate is very bright. There are more S&C coaches than ever who see the potential of serving the ultimate community. It's awesome.
I believe what we will see are not only more individuals, but also teams choosing to get more organized about their off season training. As players see the benefits of off season work, they want to drag their teams along for the ride. So I expect to see more teams having professionally designed programs. In fact, I'm already seeing it. We have several teams using the UAP – Drag'N Thrust, Prairie Fire, Penn State, the Portuguese Mixed team, and the GB Mixed team. I would like to make the UAP system even easier for teams to use. So that's the next big thing you'll see from us.
The second trend I see is the desire for better education for coaches and youth segments of the ultimate community. If we really believe in the respect component of SOTG, we have to take better care of our youth athletes by helping them to physically prepare for the demands of ultimate. We need to do a better job of making sure we don't repeat the same mistakes of other sports. We do not want high school kids developing knee problems or getting burnt out on the sport. One of the things I love about the ultimate community right now is that we have lifelong athletes. I would like to see that continue, but it won't be possible if we don't take care of the kids. Ren just wrote an excellent article about coaching our coaches. I couldn't agree with her more.
The future of the UAP looks amazing. We continue to grow at a rapid rate and that allows us to do more awesome things. As a recent development, I'm stoked to have Ren Caldwell on board providing us with her expertise on movement patterns and individualization issues. Ren and I share a similar points of view about strength and conditioning, the importance of coaches in our community, and our responsibility to our youth athletes. Her strength in coaching individuals compliments my strength in developing programs and systems very well. Ren will soon be opening her own facility and when she does, I'll be able to get real time feedback from here on UAP programming. Sort of like a UAP testing lab.
Ultimate Results products will continue to focus on performance. UAP for athletes and URCA for coaches and community organizers. Witmer products will continue to seek out the best from expert coaches other than Witmer. My strength is in putting together applicable systems. So my dream is to put together better systems for coaches. There are already some great resources out there, most notably everything that RiseUp has done. I would like to expand the Coaching Classroom to something beyond the yearly conference. I am still working on the vision for that project. The UAP took about 3 years to turn into what I really envisioned it should be. So, I'm sure I'll eventually figure it out for the Coaching Classroom too.
At this point I really need to give a shout out to my OG UAP members, the ones who have been in the UAP since January 2012. I am so grateful for the original fans who read Melissa's Ultimate Fitness, my original clients, and first UAP customers. In 2010 I had this absurd dream that I could maybe, possibly devote my life to ultimate and have the ultimate community support me for it. The support I've received from the ultimate community has been tremendous, far beyond anything I could have hoped for.
Now I have this crazy idea in my head that I'd like to visit every WFDF member country in the next 3-5 years. I want to experience all that the international ultimate community has to offer while I can still play reasonably well. And I want to see first hand how and where ultimate is growing. The future is pretty exciting!